Regular price

From $15.99 USD

Regular price

Sale price

From $15.99 USD

Unit price

per

Regular price

From $16.99 USD

Regular price

Sale price

From $16.99 USD

Unit price

per
The Allure of White Vein Kratom
White vein kratom, harvested from the early stages of the kratom plant's life cycle, is a popular strain that resonates with many enthusiasts. Recognized for its unique attributes distinct from other kratom vein colors, this strain is conveniently available in powder, capsule, and extract forms. Kratom enthusiasts appreciate its versatility and the opportunity to choose an option that best aligns with their preferences. Whether you want the convenience of kratom powder, the discrete nature of capsules, or stronger kratom in the form of extract – Royal Kratom's selection of Indo and Thai White Vein kratom offers precisely what you need.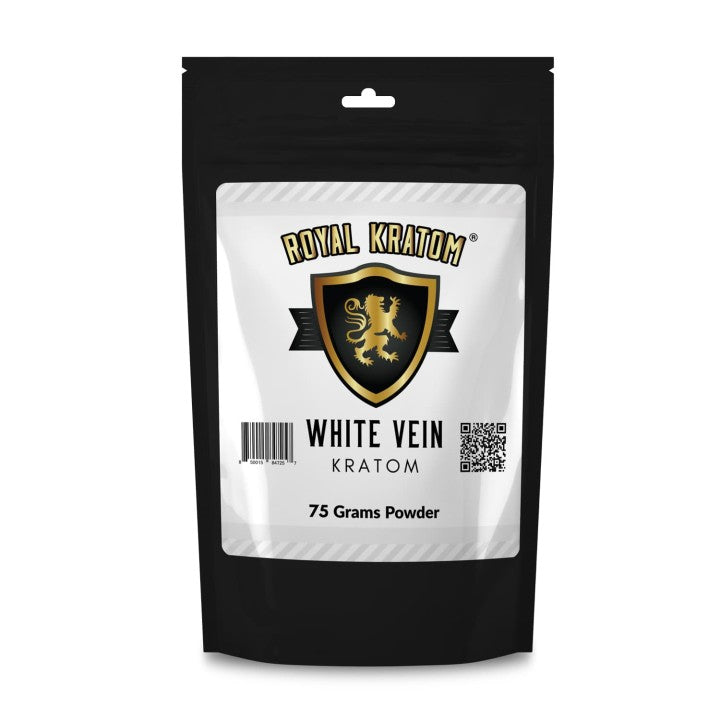 Explore Our Premium Selection
Experience the Royal Kratom difference today with our selection of white vein strains:
Powders: Discover our pure Indo and Thai Kratom Powders for an authentic experience. 
Extracts: Elevate your choices with our Platinum and Diamond Extracts, with the Diamond Extract boasting an impressive 80% mitragynine content. 
Capsules: For convenience, explore our Gold Capsules, enriched with 1.5% or more mitragynine, and our Silver Capsules, containing a minimum of 1.2% mitragynine.
Why Choose Royal Kratom?
At Royal Kratom, we have solidified our reputation as a market leader in the kratom industry. We adhere closely to GMP standards, ensuring that each product, including our white vein kratom, meets rigorous quality benchmarks. Offering all-natural kratom selections, we prioritize both purity and customer convenience. Buyers can enjoy free same-day shipping (excluding weekends and holidays) and a trustworthy 30-day satisfaction guarantee with every order. With our competitive pricing and industry knowledge, Royal Kratom ensures you enjoy unparalleled service excellence with every purchase.
We Ensure Purity With Third-Party Lab-Testing
We Go Above and Beyond With Exceptional Customer Service
Enjoy Swift and Free Same-Day Shipping
Earn As You Shop With Our Royal Kratom Rewards
Understanding Kratom Vein Colors
Kratom vein colors offer insights into the plant's age and maturity. These colors, apparent in the leaf veins and stems of our White Thai and Indo Kratom as well as other kratom strains, signify different stages of growth and harvesting times, providing a range of properties.
Green Vein
Green vein kratom is harvested during a midpoint in the plant's life cycle. Representing a balance between the younger and older stages of growth, green vein is often associated with moderate properties and is popular among those familiarizing themselves with the kratom strain.
Red Vein
Red vein kratom hails from leaves that have reached full maturity. Harvested later in the growth process, this type offers a richer profile that is often appreciated by seasoned kratom enthusiasts, due to its distinct attributes.
White Vein
Harvested from younger kratom leaves, white vein kratom possesses its own unique characteristics. As an early-stage harvest, it provides alternative properties compared to its green and red counterparts, appealing to those seeking a varied kratom exploration.
Rainbow
Rainbow kratom is a blend combining different vein colors to achieve a spectrum of properties. It's crafted to be harmonizing, combining the attributes of green, red, and white veins. Ideal for those looking for a comprehensive kratom.
Kratom FAQs
Are Royal Kratom white vein strains lab tested?
Yes, Royal Kratom is committed to ensuring the purity and safety of our products. Our white vein strains undergo rigorous lab testing, providing consumers with confidence in the quality and integrity of the product they receive.
How are kratom white vein products made?
White vein strains are derived from the young leaves of the kratom tree. These leaves are harvested, dried, and then finely ground into a powder. The meticulous process ensures that the unique characteristics of the white vein are preserved.
What strain of kratom is best for me?
The best strain of kratom varies by individual preferences and desired experiences. It's advised to explore different strains like our White Thai and Indo Kratom to determine which aligns best with your expectations. Always consult with knowledgeable sources or professionals before making a choice.
Is kratom legal in my state?
Kratom legality varies from state to state in the U.S. It's crucial to research and verify your state's current legal status or consult with legal experts before purchasing our white vein kratom products.